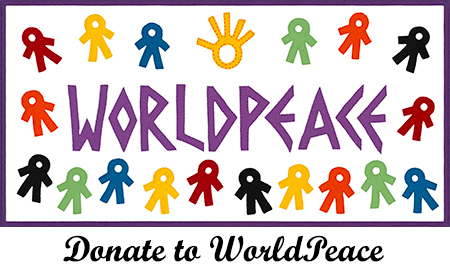 LET ME BE CLEAR HERE ABOUT MONEY

Contributions through PayPal and Patreon are allocated 95% to advertise all aspects
of promoting WorldPeace on social media generally within 14 days of receipt.
And 5% to Dr WorldPeace for expenses.

Shortly, there will be posted an accounting on this site
for all this money on a weekly basis by Dr WorldPeace.

All purchases from the On-line Store and the purchases of books
are Dr WorldPeace' personal income.
Dr WorldPeace has had a small web design business since 2003:
the monies from which are used for his personal expenses
along with his social security .

From 1972 to 2003 Dr WorldPeace was also self employed in his
insurance, accounting, tax and law businesses but no longer.
DR WORLDPEACE lives a minimalist life. He has no organizations,
trusts etc. He does not own a home, car, stocks bonds,
property etc and Dr WorldPeace has no intention
to increase his personal assets.

Money Dr WorldPeace does not need to live on will be spent to advertise WorldPeace.
Dr WorldPeace at this time has no employees. Dr WorldPeace has not
had a companion since 2015 by choice. He is disconnected from his prior wives
and his children (all in their late 40's) and grandchildren by his first wife by choice.
"Children are of you body not your soul." DrJwp
---
Donations to promote "WorldPeace Teaching Peace" are processed through
the PayPal account "WorldPeace Web Design". Paypal will take one time donations or monthly recurring donations.

---
Patreon does not accept one time donations but only monthly recurring donations.

Become a Patron!
---
---

Dr John WorldPeace JD "POETRY BOOKS"
are for sale on Amazon.com
Click here to see the 65+ books of POETRY 1970 - 2021 written by Dr WorldPeace
on the separate website Dr John WorldPeace JD Poetry dot com
and the links to Amazon.com to purchase these books
---
THE BOOKS BELOW ARE MOSTLY BOOKS OTHER THAN POETRY BOOKS
BY DR JOHN WORLDPEACE JD
FOR SALE ON AMAZON
BOOKS ABOUT PEACE AND WORLDPEACE BY DR JOHN WORLDPEACE JD
Click here to buy: The Book of Peace
from Amazon.com


---
BOOKS BY DR JOHN WORLDPEACE ON CHRISTIANITY
Click here to go to the ONLINE version of this book: The Third Millennium Gospel of Jesus Christ


Click here to buy: The Third Millennium Second Reformation of Christianity:
Subtitle: The Second Coming (The Ascension is in progress)
from Amazon.com

Click here to buy: The Peace and Harmony Gospel of Jesus
from Amazon.com

Click here to buy: The Book of Job:
Challenging God Second Edition
from Amazon.com

Click here to buy: Saint Francis of Assisi:
The Fourteenth Disciple: A Biography
from Amazon.com

Click here to buy: The Gospel of Thomas:
Gnostic Sayings of Jesus
from Amazon.com


---
SACRED SCRIPTS OF EASTERN RELIGIONS BY DR JOHN WORLDPEACE JD
Click here to buy: The Contemporary Tao of Peace and Harmony: Tao te Ching 2d Edition
from Amazon.com

Click here to buy: The Wisdom of the Buddha:
The Path of Peace and Harmony: The Dhammapada Second Edition
from Amazon.com

Click here to buy: The Sayings of Krishna: The Bhagavad Gita:
The Song of Peace and Harmony Second Edition
from Amazon.com

Click here to buy: The Analects of Confucius:
Ancient Wisdom: Contemporary Peace and Harmony Second Edition
from Amazon.com

Click here to buy: The Yoga Sutra of Patanjali:
An interpretation First Edition
from Amazon.com



Dr John WorldPeace JD Eastern Religion as Poetry:
Krishna, Buddha, Lao Tsu, Patanjali, Confucius
(468 pages)
SUBMITTED FOR THE 2022 PULITZER POETRY PRIZE
Paperback available on Amazon.com - click here
This is a reinterpretation of some sacred sripts of Eastern Religion
by Dr John WorldPeace JD with a WorldPeace orientation
---
OTHER NOT POETRY BOOKS BY DR JOHN WORLDPEACE JD
Click here to buy: Dr John WorldPeace JD Prison Journal 2008:
Dr John WorldPeace JD: Texas Political Prisoner
from Amazon.com
Note: This book is finished but needs additional editing.

Click here to buy: My Miracles, Inspiration, and Significant Events:
A Personal Journey
from Amazon.com
Note: This book is about half finished but finished enough to publish Dr Jwp

Click here to buy: Jim Chrome I -The Eye Opens:
A WorldPeace Sci-Fi Novel (Volume 1) Second Edition
from Amazon.com