OBJECTIVE OF DR JOHN WORLDPEACE JD WITH REGARDS TO TEACHING PEACE
HOW CAN WE MANIFEST PEACE IF WE DO NOT INCLUDE EVERYONE IN OUR VISION OF PEACE
THE STARTING POINT WILL BE THE BOOK OF WORLDPEACE
INTRODUCTION from THE BOOK OF WORLDPEACE by Dr John WorldPeace
THE MAIN CATEGORIES FROM THE BOOK OF WORLDPEACE

---
OBJECTIVE OF DR JOHN WORLDPEACE JD WITH REGARDS TO TEACHING PEACE

My objective in teaching peace is to change the mindset of the world human society. It is not enough to teach ways to be peaceful. It is not enough to teach ways to mediate between opposing parties. My objective is to sweep away the way that Religions, Governments and the Courts of Law operate that create obvious impediments to peace due to their objective to control and even prey upon the world human society.
Religions when given a choice of preserving the religious bureaucracy or skewing the message of its patriarch will skew the message. The American government would not dare to embrace the pure message of "all men created equal or life liberty and the pursuit of happiness for all". And the Courts of Law are controlled by the most powerful law firms to maintain or increase their level of power for the purpose of increasing their wealth.
Further, all religions are binding and enslaving. I am a follower of the teachings of Jesus but not a bureaucratic Christian. The reality of spirituality is far more expansive and awesome than the doctrine and dogma of religious bureaucracies. Quantum Mechanics is beginning to show the true essence of our infinite immortal spiritual being.
I am interested in creating a more just and sane world human society. I am interested in promoting an ascension of the human race. This is not going to be an "easy A course of study. This is going to be hard because it is going to move fast and it is going to require the students to let go of their programming in religion, government, law, race, gender and open up to an expanded consciousness.
Their entire cosmology and philosophy is going to be probed and it has to be probed with a dispassionate mind. My job is to teach teachers as fast as possible. I believe that I need 9 months to create an undergraduate and graduate course of study ready for students and I will do that by pulling 50 professors from 50 universities and hammer them for 6 to 9 months to create a curriculum.
I need questions about my commentary to make sure I have all the inconsistencies exposed.
The grade in the course is going to be about participation and not about being brainwashed. I would say a 500 word response will be necessary for every three hours in class. I feel that this intensity is going to be necessary to keep the student from having the time to fight what is being taught. They can fight after the course if over. But they will have to run to keep up during the course.
There will be no multiple choice test. There will be no set answers. No cheat sheets. No pass around past tests and notes from the past because this will be an endeavor that breaks new ground every day and every hour in class. I suspect it will be mind numbing.
The barriers to peace and WorldPeace and a more sane and just society have to come down or nothing of significance will be learned. The Eureka moment will not manifest.
Dr John WorldPeace JD170916
---
HOW CAN WE MANIFEST PEACE IF WE DO NOT INCLUDE EVERYONE IN OUR VISION OF PEACE?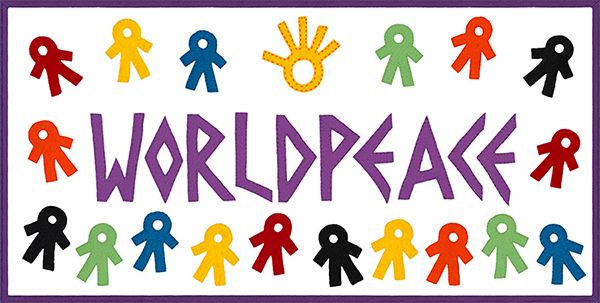 How can we manifest peace on earth if we do not include everyone
(all races, all religions, all nations, both genders) in our vision of peace?
     We can't. Consider that A Christian, Buddhist, Hindu, Jewish, Muslim vision of peace will
never manifest WorldPeace because the dictates of all religious bureaucracies are elitist and
exclusive and WorldPeace is an all inclusive secular democratic determination.
Consider that an American vision of peace will never manifest WorldPeace.
Consider that a White race vision of peace will never manifest WorldPeace.
Consider that a Male vision of peace will never manifest WorldPeace.
If I am a minority of one, the truth is still the truth. Dr Jwp JD
---
THE STARTING POINT WILL BE THE BOOK OF WORLDPEACE

THIS DEVELOPING CURRICULUM IS INITIALLY DIVIDED INTO THE GLOBAL ISSUES LAID OUT IN THE BOOK OF WORLDPEACE by Dr John WorldPeace. The first edition of this book was titled THE BOOK OF PEACE. It had twenty-one chapters and was written in 1988 by Dr John WorldPeace. Over the years it was expanded to thirty-four chapters and re-titled THE BOOK OF WORLDPEACE. These thirty-four chapters focus on Peace and WorldPeace issues in the world human society that affect everyone. It is intended that these chapters will be edited, expanded and added to starting immediately.
The objective here is to create a curriculum of study in INCREASING THE PEACE IN THE WORLD HUMAN SOCIETY that can be included in all the universities in the World. There is no such global Peace Curriculum presently. In time, this course of study should be expanded into a fully accredited degree plan. This is the first step. HOW CAN WE EXPECT THE LEVEL OF PEACE IN THE WORLD TO INCREASE IF WE DO NOT TEACH PEACE IN OUR COLLEGES AND UNIVESITIES? It is an idea whose time has come.
I thought about a Wikipedia format but I felt that in the beginning I needed to set in place a structure and then add others like myself, the sooner the better, to create sort of an editing board for the purposes of organizing and developing the curriculum. This is a huge undertaking. Especially since the world does not want peace or is just apathetic about the subject.
Initially I would ask for volunteers until the curriculum would reach a point where it could support a group of directors and a staff and an editing board etc. It seems to me this curriculum in time needs to be delivered to the universities in the world fully developed. They could then add to the core curriculum as they were so inclined. What works will be added to the core curriculum for use around the world.
I expect this site to remain ad free.
I will lead this project but it is obviously too big for me to do alone. I need the help of people who have skills to put this together and then promote it. I know what I want to create. But at this moment I don't know of a single person who I might ask to join the project. A curriculum to Teach Peace is not something than can be dictated by one man. It needs global participation in order to become a functional worthwhile project. One man's vision of peace is not going to bring much of an increase in the level of peace in the world human society.
The Book of WorldPeace will be the initial structure. But since this project will be presented in an electronic medium, change can take place very quickly and the categories can be combined or expanded or added to quickly.
The plan is to begin with the thirty-four chapters (which are not fully developed) in The Book of WorldPeace and attach daily global news articles to elaborate on these thirty-four chapters. Then other primary chapters could be entered and all chapters would be subject to sub chapters and expansion.
This is an academic approach to Teaching Peace. The core question is why is there not a greater level of peace in the world. Once that question begins to take on commentary, the world will be able to move toward a refined plan of action. Actually the use of current news to bolster the various chapters will keep the curriculum relevant and in a constant state of development. Since a perfect peace is not possible this project will never be finished.
This project is intended to be a global discussion on the specifics of increasing the level of peace in the world human society. It is not intended as a vehicle for me to dictate my vision of a world at peace.
Use the email link above in the top navigation panel to contact me.
Dr John WorldPeace
141229 08:30 MT
150121 2345 MT
---
INTRODUCTION from THE BOOK OF WORLDPEACE by Dr John WorldPeace


INTRODUCTION from THE BOOK OF WORLDPEACE by Dr John WorldPeace

The foundation of inner peace and the level of peace in the world human society is grounded in an understanding of what we are doing here. Why are we born into this reality?

The overwhelming majority of human beings believe that their infinite, immortal spirit inhabits their physical bodies and after the death of the human body, their spirit will survive in the spiritual dimension.

This spiritual dimension is infinite and immortal. It had no beginning and will have no end. It always existed. This is the greatest mystery for human beings who live in a tangible universe that is made up of beginnings and endings of everything. The logical linear mind of human beings cannot conceive of abstracts like no time, no space, no beginning, no ending, all spirits being at one with the Infinite Potential (God) and at the same time having an individual perspective as a part of God.

The human body is no more than a vehicle for a spirit. And each sentient being, according to the all the major religions, hosts an infinite immortal spirit. Without the spirit, the human body, or the body of any living thing, is dead. Without the life force of the spirit, there is no life in any living thing. Being alive is associated with a physical body which is inhabited by a spirit; or stated another way, a spirit incarnates within a human body.

In order to find peace, we must acknowledge and live an awareness that our true spiritual essence is simply looking out and experiencing this reality though a limited human body; the same way we would look through a telescope or microscope, the same way we watch a movie at the cinema.

By incarnating in a human body, the spirit can experience time, space, beginnings and endings, the senses of the human body, a physical separateness from other spirits, and an intensity of existence that is not possible in an non physical form or in a barely tangible physical form like the spiritual dimension.

The greatest impediment to inner peace and the level of peace in the world human society is the confusion of the spirit as it resides within the human body. The spirit becomes confused by forgetting its immortal and infinite nature and begins to think this finite mortal reality is the true reality. When we forget our true infinite immortal spiritual nature, we become lost and confused in this finite mortal reality.

Most human beings believe that everything we do in this life will be reviewed at the end of our lives when the human body dies. At that time, our spirit will return to the spiritual dimensions and all the lies we told and pain and suffering we caused as well as any good we did, will be open for review. Getting away with a hurtful act within this physical universe will be reviewed in the truth and light at the time of the spirit's return to the spiritual dimension. It is there where all those who have been wronged will be vindicated.

This mental disengagement of the spirit from the human body and change of perspective about what is going on in the physical reality will greatly enhance the level of peace within the world human society. It is the denial of a judgment day or review day at the end of life that causes disharmony and chaos within the world human society. The acknowledgment that nothing can or will be hidden in the spiritual dimension with regards to its life on earth, will cause the majority human beings to view their actions differently.

In order to have inner peace and to increase the level of peace in the world human society, we must never forget that we are an infinite, immortal spirits peering out through human eyes and experiencing through the other human senses. In death, that perspective is lost.

When we forget what we really are, we become confused and then we do things that cause us pain and suffering and that pain and suffering ripples through the entire world human society. When we become confused, we become a source of disharmony and chaos rippling throughout the universe.

When we associate with the human body, we think that living eighty years is a long time when it is less than a nano second within the infinity of time.

We must never forget that we are experiencing this reality temporarily and then act accordingly. We must never forget that the body will die and all that we knew and experienced while incarnate will vaporize. Human life is just a dream in this sense.

We want to avoid becoming confused in this reality, this dream. Avoiding confusion manifests peace within ourselves and increases the level of peace in the world human society.

The foundation of inner peace and WorldPeace can be summed up in the simplicity of the children's nursery rhyme.


Row, Row, Row
YOUR boat,
GENTLY down the steam.
Merrily, Merrily, Merrily,
LIFE is but a DREAM.


---
THE MAIN CATEGORIES FROM THE BOOK OF WORLDPEACE

THE MAIN CATEGORIES FOR DISCUSSION FROM "THE BOOK OF WORLDPEACE"

The Infinite Potential
We cannot conceive of the Infinite Potential.
The Infinite God and the Personal God
There are two concepts of God, Personal and Infinite, all knowing, present everywhere. There is no place that God is not. God is not masculine
Personal God
There is only one God, who manifests under many different religious names and faces. No matter how great our conscious knowledge and understanding, God is beyond our conception. (Scientist refer to God presently as Dark Matter)
Spiritual Dimension Heaven and Hell
The spiritual dimension is a reflection of the earthly dimension and the earthly dimension is a reflection of the spiritual dimension.
Immortality
We are infinite, immortal spiritual travelers of times, places and dimensions.
Creation of the Universe; Something from Nothing
We really have no idea how or why we exist in this reality much less any truly valid concept of its creation.
Earth
We are each an integral part of a living earth which sustains our bodies.
Change
Everything changes!
Creation of Human Beings
From the dust of the universe the earth was created. In time the human body evolved. It is possible that higher physical beings (aliens) made genetic changes in the developing human beings. All that lives on the earth is dust.
Genetics
It is best to consider the human body nothing more that a vehicle.
Incarnation for Intensity
Individual souls are either incarnate within a body or they are free of a body.
Metaphysical Fog
The border between the spiritual dimension and the earth reality is not a hard and fast barrier.
Life
The purpose of life is to be. The purpose of life is to live, to experience, to be.
Abortion
The overwhelming majority of human beings believe they have a spirit. And that spirit is connected to their human body.
Sex
We each have a primal sexual drive that cannot be legislated or moralized away. The biological nature of human beings is that of two sexes. Women are not property.
Women
The reality is that women are second class citizens the world over.
Love
We can love any number of people equally and totally and we have the capacity to love every person on the planet.
Death
Our souls release our finite mortal bodies in death.
Euthanasia
If one lives long enough one loses any sense of a quality of life and generally becomes a burden on family and friends if not the government. There comes a time when euthanasia becomes a relevant conversation.
As Above So Below
If you want to know how spirits relate in heaven, look at how human beings related to each other on earth.
World Human Society
Human beings have become a world society and, consequently, we must treat all the inhabitants of the world as if they are a part of our local community.
Subordination of Women
There is an undeniable subordination of women throughout the world human society. They are in fact second class citizens worldwide.
Race
We really belong to only one race and that is the human race.
Money
Money is power and those who have power have an obligation to help the majority of society out of its misery. If not, they have the moral and should have the legal obligation not to prey upon the weak.
* 150121 One Percent of Human Beings own 48% of the global wealth
Education
Education increases the knowledge and understanding of individuals in society regarding the many aspects of the world in which they live.
War
War is, in reality, one human being murdering another human being.
Religion
When religions remind us that our immortal, infinite souls are at one with God, they bequeath inner peace to human beings who are caught up in the materialism of the world. When religions dictate laws which make us fear God and encourage us to avoid those who do not belong to our particular religion, they promote judgment, disharmony, intolerance, prejudice, hatred and war.
Sin
Sin is no more than the breaking of the laws of a religious institution.
Karma
Karma is a metaphor that tries to make us believe that we must balance every negative act we commit.
Reincarnation
Reincarnation is a metaphor that attempts to have us believe that we must reincarnate in order to achieve an eventual oneness with God.
Attachment
Human beings become attached to their reality.
Apocalypse
There is no question but that the world will come to an end some day. But the notion that due to the course of history that human behavior will bring about some end times destruction is nonsense.
Peace
Peace comes when we remember our Oneness with God, with the universe, with the earth and with each other.
WorldPeace
A perfect peace will never exist within the world human population because the foundational nature of this universe is change. But we can increase the current level of peace in the world human society.
---
If you have any suggestions or comments on anything on this site, please email Dr. WorldPeace. This is a global community project. Send articles or anything else that are relevant to the above categories. Please, whatever you think needs to be done let me know.
---